Welcome to the nexus of modern technology and healthcare.
De-Novo Healthcare's neurology and IVF department specialize in the diagnosis and treatment of nervous system disorders as well as cases of infertility.
Dr. Amol Mahajani, M.D. (medicine) D.N.B. (neurology) is our neurologist consultant, and Dr. Aditi Ambekar Mahajani is our IVF specialist. They specialize in providing treatment for headaches (migraines), vertigo, stroke, epilepsy, other neurological disorders, menopause, and infertility.
Our experts are both associated with several multispecialty hospitals in Pune.
Special interest in treating headache(migraine) vertigo,stroke, epilepsy, and other neurological disorder Attached to Sancheti, Joshi,Ratna,Sanjeevan hospitals in Pune Attends satellite OPD every Saturday at Narayangaon at Varadi Medical.
Royal Mudhol group of hospitals.
We specialize in Fibroid/cyst/ectopic/hysterectomy with Advanced Laparoscopic Techniques.
Dr. Aditi has 6 years of experience in treating long-term infertility.
we are attached to various multispeciality hospitals in Pune including ONP, MJM, Gynaeworld hospital.
Royal Mudhol group of hospitals.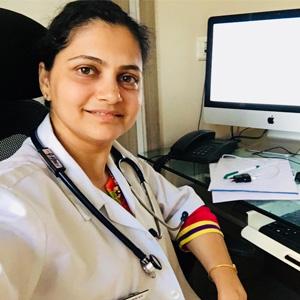 Specialized In Test Tube Baby (IVF) , PCOD, Minimal Invasive Surgeries( Laparoscopy/Hysteroscopy)
Sir has treated me for stroke Now I am much better, able to walk without support
My father Mr Nighot from manchar is much better now u have treated him for epilepsy . No Seizure now, he is able to walk . I am very thankful to you
My father Vishnu lokhande 74 years old is diagnosed with restless leg syndrome. he is very happy after consulting Dr. Amol. I have also send two of my trigeminal neuralgia patients to him both are satisfied
TATA motors finance
204, Mayfair Towers,2nd floor, KB Joshi Path, wakadewadi, Shivaji Nagar Pune Maharashtra -411005
Time- 3 pm to 4 pm
When it comes to gynecological health, most women assume that if they have monthly menstruation and no bad symptoms, they are in good health. Although this is correct, there are several reasons why you should not skip your OB/GYN's yearly appointment.
A neurologist is a specialist that mainly focuses on the diagnosis and treatment of disorders of the brain, spinal cord, and nerves. Since the human body is so complicated, there are many various types of medical specializations.